Cichlid Lovers Tropical Fish
Protomelas steveni taiwan "Albino Taiwan Reef"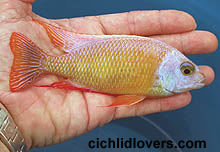 Photo compliments of Aquatic Promotions Inc
-------------------------------------------------------------------------------------------------------------
Protomelas sp. 'Steveni Taiwan' Albino Spawning Report
by Thomas Hanley
The Protomelas sp. "Steveni Taiwan" is found in Lake Malawi along the Taiwan Reef, from which it receives its moniker. These fish are found at the depth of 50 to 100 feet according to the article written by Ad Konings in the October, 2002 issue of Tropical Fish Hobbyist. Males defend territories of this rocky terrain of about 5 feet in diameter. This fish is only located in a few locations within the lake, although the reason why is not known. They feed on the bio-cover from the rocks and zooplankton in the water column.
The appearance of this species of fish is rather striking. The males sport a solid blue face. The blue trails up the top region of the fish and on its dorsal fin. The dorsal also marked with a solid white blaze that starts at the tip of the nose and extends to the end tip of the dorsal fin. The pectoral Fins are a dull brown but the Pelvic fins are a rich orange color, trimmed in blue. Its flanks are a deep orange, with blue starting at its dorsal fin. The anal fin is blue and white at its base, but transitions to a red that is more brilliant than any red that I have ever seen on any Rift Lake cichlid! The females are metallic silver with six lateral lines and two broken horizontal lines that make them appear to have the letter "H" imprinted on them. Other than that, they would be considered to be as drab as any Rift Lake cichlid female.